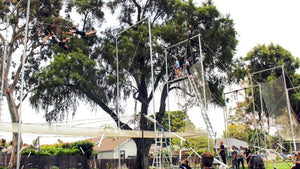 See who's hanging around at Plaza Vera Cruz!
Open to the Public!
Santa Barbara Trapeze Co has two riggings set up in this beautiful park and there's still room to enjoy the scenery. Stop in, say "Hello!", and see what all the excitement is about up close!
First Time?
Anyone can fly through the air with the greatest of ease! Come take a
turn on the flying trapeze and join one of our daily Open Classes.
Frequent Flyer?
SBTC's Master Class is for you! We are here to give you a solid
foundation and take your skill to higher heights in only 8 weeks of
specialized instruction.
Workshops & Privates
Contact us directly to organize a group workshop, private session, or
party! No group is too small and we're not afraid of a good time!
First Catch!
Check out this awesome point of view video of a student's first trip across to the hands of the catcher.
We really mean it when we say anyone can try flying trapeze! Children of all ages are welcome, as long as they can listen to direction and fit in the safety mechanic. This usually starts around the age of 6, but have had younger- and much older!- enjoy the feeling of flight!
You don't have to be an athlete or exceptionally strong and coordinated to be successful on the trapeze. Just a willingness to try and a healthy dose of confidence is all you really need.
Coaches have the final discretion on any participant's flight clearance. There are some obvious No-No's, like being under the influence of drugs or alcohol and pregnancy; and there are not so obvious ones, including certain health and medical conditions. Please ask if you're concerned.
You will be hanging by hands, knees and potentially toes- swinging through the air with the greatest of ease! Comfortable athletic wear should be worn, with no loose jewelry or accessories. We suggest you have socks, and bring water. Hats and eyeglasses (without straps) will be removed for each turn.
We will do our best to contact all class registrants as early as possible if there is a need to reschedule or offer refunds for inclement weather. We aren't meteorologists, though. If it becomes questionable during an event, it is up to the discretion of the Instruction Team.
Any class that is more than halfway complete before stopping due to the weather will not be rescheduled or refunded.
Absolutely! We're not crazy! One of the first things everybody learns is how to dismount safely into the net. Safety is an utmost priority for ourselves and our participants and the equipment is inspected and maintained daily.
As with any dynamic activity, there is always the potential for something to go amiss and flying trapeze is highly reliant on timing and distance. We train daily and systematically to ensure our own safety and success and treat our class participants to the same care.
We understand life happens, schedules suddenly change and so much is out of our control. If you can't make class for any reason, just shoot us a message and we can work out either a reschedule or refund as necessary. Live to fly another day!
The Royals come from all walks of life and we like it that way. All you have to do is take that first leap, too! Once reserved exclusively to the Circus industries most acrobatic families, flying trapeze is now widely available and schools are all over the country.
Our focus is typically on professional performances, but we enjoy sharing our knowledge with the growing Flying Community. As our friends at Trapeze School New York say, "Forget fear. Worry about the addiction!" Now we're doing it with SoCal Style!