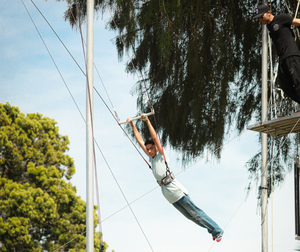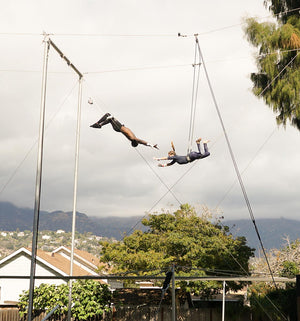 Social and Emotional Learning
Field Trips Santa Barbara
STEM, STEAM and Social and Emotional Learning Programs
WHERE PASSION MEETS PURPOSE
We're enthusiastic people with a love of trapeze and its ability to harness the
oneness of mind, body and spirit. Our mission is to bring people together to
experience the joy of flying. We believe in the the importance of physical
and mental wellness, the power of community and the value of self–growth.
Urgency to Act
Our program is designed to address the challenges affecting children today
14% Of students reported being "very gritty"in a study by Angela Duckworth
(Author of Grit: The Power of Passion and Perseverance , Professor of Psychology at the University of Pennsylvania)
24% Of students are getting the recommended amount of physical activity
31% Of teenagers create or perform art, according to the National
Endowment of the Arts
Maximizing Experiential Learning
Our team will work closely with school staff providing a specially
designed curriculum centered around the trapeze and aerial arts.
We will foster a unique experience where students will be encouraged to discover a higher sense of self through stations focused on the aerial arts and flying on the trapeze. All milestones are celebrated by learning and growing in a heathy, positive and supportive environment.

Teachers are invited to guide students through self-reflection
provided through the post trip curriculum that will encourage
students to to highlight their achievements.
Services
SEL/Trust Building Among
Students -3 Hour Experience
K-12th Grade
25 - 120 students
Students will experience personal growth and develop invaluable social skills as they engage in aerial arts and balance activities that enhance strength, flexibility, balance, and coordination, while overcoming fears in a safe and supportive setting, guided by our trusted community.
STEAM/STEM - 3 Hour Experience
3rd - 5th Grade
6th Grade
25 - 120 students
Students will embark on a transformative journey of personal growth and social skill development as they assemble a trapeze rig, improve physical fitness, foster problem-solving skills, boost self-esteem, and immerse themselves in inspiring "en plein air" learning experiences.
School Leader and Teacher Team Building - 3 Hour Experience
School employees
Experience a one-of-a-kind professional development program that engages teams, cultivates a growth mindset, and promotes holistic fitness for refreshed and motivated individuals.
What are you waiting for? Contact us to set up the most exciting field trip your kids will ever experience!