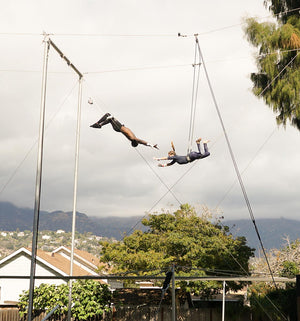 An intensive and immersive workshop series like no other!
Come for the fun, stay for the journey
The Master Class multi-week series was developed to provoke mental & physical growth, take your trapeze level to new heights, and create a memorable experience you can be proud of. Designed for the self-development junky who likes to be challenged and knows the deep value of accomplishing something truly transformative. 
Details
Duration: Once a week - same day and time
Length: 2 hours a class
Prerequisite: Take at least 1 class prior to joining.
Same group of people - grow together
It's a workshop to become a master
What you will learn?
Foundational lingo, techniques, and skills
Extensive curriculum of positions, tricks and flying
How to learn and grow with a group of people - giving and receiving encouragement and learning from others who may be more advanced in the
flying progression
Learn how to step past your comfort zone and that it is ok to 'do scary things'
How dedication and grit pay off when learning complicated new skills and body movements
What will you gain?
Master trapeze skills
Mental and emotional strength
Fantastic physical workout
Courage and self-confidence - deep sense of pride
Bonding experience - Camaraderie amongst your fellow flyers
Overall personal growth
Bragging rights & a fun-fact you can proudly share
An exciting, challenging experience you will never forget
Bonus!
We wrap up the series with a Showcase Event where you can dazzle your friends and family with your aerial mastery!