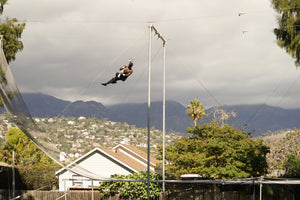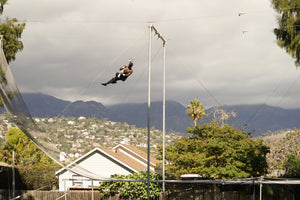 Thank you for your purchase from Santa Barbara Trapeze Co. Shop.
We're so sorry to hear it your items from our shop didn't work out for you. All unworn items are eligible for a full refund (minus shipping) within 14 business days.
To submit a return please provide your full name and order number  and contact:  
From there, our team will provide you with a return label and next steps. 
While we take pride in the quality of our items and inspect them thoroughly, if you notice there is an error or issue with your product upon please contact our team within 5 days of receiving your item. We're human things happen but we would love the opportunity to make it right. 
*we do not offer exchanges at this time 
Exploring Flying Physics
Uncover the principles of flight as students delve into gravity, force, and momentum concepts. Our interactive workshops break down the physics of trapeze movements, allowing participants to design their own mini-experiments. Experience the thrill of flight while gaining insights into balance, pendulum motion, and trajectory.
Engineering Heights and Industrial Equipment
Engage in engineering challenges inspired by trapeze structures. Students design and construct mini-trapeze rigs, applying principles of stability, load distribution, and structural integrity. As a unique addition, participants gain hands-on experience with our industrial lifting equipment, learning the mechanics and engineering behind erecting a full trapeze frame. This practical encounter equips students with valuable skills for real-world applications.
Mathematics in Motion
Mathematics becomes an adventure as students calculate angles, distances, and trajectories essential for trapeze maneuvers. Engaging activities employ geometry to predict a swinging trapeze artist's path and optimize movements. This integration enhances mathematical thinking and spatial reasoning, demonstrating the beauty of math in action.
Artistry in Aerial Expression
Embracing the "A" in STEAM, students explore the artistic dimension of trapeze. They craft choreographed routines that intertwine movement, music, and storytelling. This segment encourages creative expression, emphasizing the pivotal role of aesthetics in fostering innovation.
Culminating Showcase
Culminate the program with a captivating showcase where students celebrate their newfound trapeze skills and present STEM/STEAM projects. Witness their growth, confidence, and interdisciplinary talents as they share their accomplishments with peers, teachers, and families.