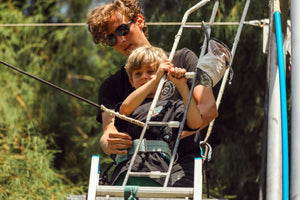 Give your kiddos the experience of a lifetime! Check out the different ways your kiddos can experience trapeze.
KIDS MASTERCLASS
The Kids Master Class 8-week series will develop mental & physical growth, take their trapeze level to new heights, and create a memorable experience.
KIDS CAMPS
We offer a variety of kids camps year around. From spring break to summer, to after school camps, to Thanksgiving. Swing on by and check out our camp section to join in on the fun!
DROP IN CLASS
Come in anytime! Want to swing around with your kiddos you're welcome to join in too! We offer several drop-in classes a week, welcomed to all levels of fitness.
Private Lessons
Interested in a one on one experience for your kiddo! We got you covered. Our A-team of trapeze professionals are equipped to teach your flyer all the basics of trapeze or take them to the next level of artistry. Email us the details and we'll book a 1-on-1 with your favorite fly instructor.