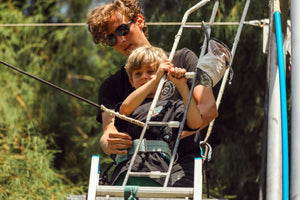 Just add kids for memorable moments.
A new way to party...
If you're a parent seeking a unique and memorable way to celebrate your child's birthday, look no further! Our 2-hour birthday party package is the perfect choice. Imagine the excitement on your child's face as they soar through the air, feeling like a true circus performer on our flying trapeze. Priced at just $650 for up to 6 kids or $1200 for up to 10 kids, our birthday party package is a fantastic value. And if you want to invite even more friends, no problem – we offer add-ons to accommodate additional guests.
We understand the struggle of finding a new and unique birthday party idea for your child, rather than the same old, run-of-the-mill options like bowling parties. With Santa Barbara Trapeze Co, you can give your child an experience like no other – one they'll be talking about for years to come.
At Santa Barbara Trapeze Co, we believe that every moment should be an adventure, and we can't wait to create an unforgettable experience for your child's special day. Join us as we swing, soar, and celebrate – the trapeze way!
Experience the thrill, embrace the fun, and let your child's birthday take flight with Santa Barbara Trapeze Co. Book your party now and let the celebrations begin!
Package A
Taking Flight A
Size: Up to 6 kids
Length: 1-hour
Price: $650
Perks: SBTC t-shirt for the birthday kiddo
Package B
Taking Flight B
Size: Up to 10 kids
Length: 2-hours
Price: $1200
Perks: SBTC t-shirt for the birthday kiddo
Bigger Crew?
Please contact us for inquiries of larger groups! We would love to help you plan your event and take it to the highest iof heights!
Randy's Fun House
Our basic birthday party package includes the thrilling flying trapeze experience, but that's just the beginning! For those looking to add an extra dose of excitement, we offer optional activities such as aerial silks, aerial lyra, and trampolines. You can tailor the party to suit your child's interests and create a truly one-of-a-kind celebration they'll remember forever. Check out our add ons to any birthday party package:
Silks $300
Lyra Hoops $300
Trampolines $400