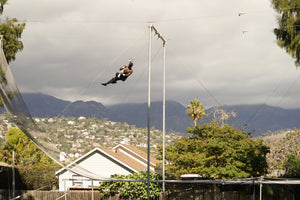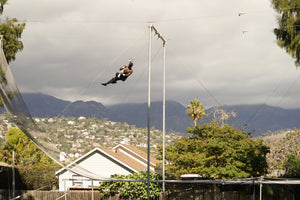 MEET JENNY! Jenny was born raised in Los Angeles, CA and has been married for 19 years and has a beautiful 16 year old daughter. 
I'm not stoked on being on the board or the take off. But I did enjoy it, once it was over. I'm much more comfortable in situations I have control over, on the ground.
Career: 
7 year as a Financial Analyst at Universal Studios for Food and Retail at the Theme Park as well as City Walk. 
12+ Year as a Senior Financial Analyst at The Walt Disney Music Group, Left in Jan of 2020 to pursue Production Accounting. 
3 Months as a Production Account at Media Services, the 2nd largest PA Firm in the Film Industry, then …..COVID. No Productions. No Job. 
April/May 2021 I joined Team Randy. 
Hobbies - Mountain Biking, Snowboarding, Tennis
What's your spirit animal - Not sure if it's my spirit animal, but I've always had a weird connection to dolphins, like they can see into my soul
What's your favorite aerial trick - Fully Extended Stripper :) Technically a MX Move
What are a few words to describe you/personality? Easy Breezy served with a side of Sarcasm
What's your guilty pleasure - Sunday in bed, bing watching TV
Go to karaoke song - Haha,
nope.com
 I don't karaoke
A motto you live by - Expect Nothing.  Appreciate Everything.