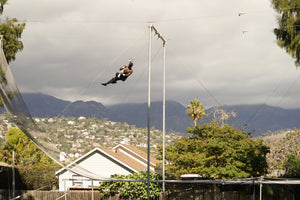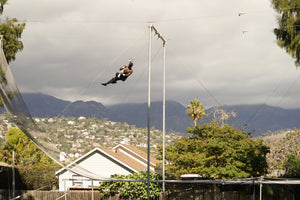 SBTC COVID-19 Policies
revised August 2021
Your safety is important to us. We are compliant with the latest of Federal, State and CDC guidelines of best practices for our type of business. Please check back as we will update frequently to stay aligned with the most current safety protocols.
What you need to know before you coming to SBTC
PRE-REGISTRATION
Pre-registration is mandatory. No last minute drop-ins or late arrivals will be permitted.
PAY ATTENTION TO YOUR HEALTH
We request that all participants and guests monitor their own health status. If you are feeling at all unwell, please do not attend classes at SBTC.  
MASKS
Please bring a mask along, we request that unvaccinated adults wear one. As the CDC guidance changes rapidly, we will have to adjust sometimes with little notice. At the moment, masks are not specifically required for outdoor activity, but this may change, so stay tuned and please be careful with your health and the health of those around you.
Our COVID Safety Efforts and Policies
HEALTH SCREENING 
All staff members are vaccinated and we pay attention to their general well-being and if they are not feeling well, they do not come to work that day.
CANCELLATION DUE TO HEALTH CONCERNS
We have adjusted the limit on cancellation to 6 hours - this is a short time frame and is designed to enable last minute cancellation due to feeling unwell. 
MASKS and SBTC
The mask situation is changing rapidly. At the moment, there is not a requirement for masks outside, but we are evolving slowly and updating as we go along. If you are vaccinated, you do not need to wear a mask. If you are not yet, please protect others by wearing one. This could change between the time you read this and your visit, it's prudent to keep a mask in your bag! The staff of SBTC are all completely vaccinated.
SANITIZING
All staff and participants should sanitize their hands before chalking up on the ground and climbing the ladder. Before we welcome participants for the day we do thorough cleaning and sanitizing of all areas in use. We use EPA-approved products for disinfection. We provide sanitizer and encourage participants to re-sanitize as needed.
CATCHING OPTIONAL
We will be offering catching which involves hand-to-hand contact with the Catcher. Anyone who would prefer to skip catching can let us know during class. 
 PLEASE contact us at hello@sbtrapezeco.com or call (805) 350-9802 with any and all questions. We welcome all inquiries!
Exploring Flying Physics
Uncover the principles of flight as students delve into gravity, force, and momentum concepts. Our interactive workshops break down the physics of trapeze movements, allowing participants to design their own mini-experiments. Experience the thrill of flight while gaining insights into balance, pendulum motion, and trajectory.
Engineering Heights and Industrial Equipment
Engage in engineering challenges inspired by trapeze structures. Students design and construct mini-trapeze rigs, applying principles of stability, load distribution, and structural integrity. As a unique addition, participants gain hands-on experience with our industrial lifting equipment, learning the mechanics and engineering behind erecting a full trapeze frame. This practical encounter equips students with valuable skills for real-world applications.
Mathematics in Motion
Mathematics becomes an adventure as students calculate angles, distances, and trajectories essential for trapeze maneuvers. Engaging activities employ geometry to predict a swinging trapeze artist's path and optimize movements. This integration enhances mathematical thinking and spatial reasoning, demonstrating the beauty of math in action.
Artistry in Aerial Expression
Embracing the "A" in STEAM, students explore the artistic dimension of trapeze. They craft choreographed routines that intertwine movement, music, and storytelling. This segment encourages creative expression, emphasizing the pivotal role of aesthetics in fostering innovation.
Culminating Showcase
Culminate the program with a captivating showcase where students celebrate their newfound trapeze skills and present STEM/STEAM projects. Witness their growth, confidence, and interdisciplinary talents as they share their accomplishments with peers, teachers, and families.